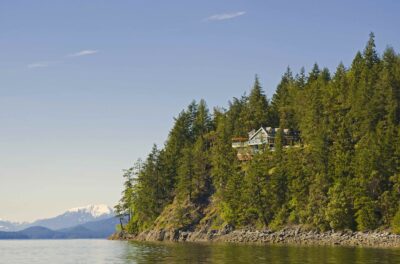 My life has changed a lot over the past year. I now spend most of my time in Southeast Asia (mainly Singapore), combined with regular trips to Europe and the Middle East. I don't spend much time in Canada anymore and that likely won't be the case for the next couple of years either.
I have an amazing summer house in Sharpes Bay (Desolation Sound) in British Columbia. When I originally bought it, my plan was to spend all my summers here with my kids, plus long weekends during the rest of the year. However, because my kids now live in Singapore they prefer to stay in the region during school holidays or visit their family in Europe, so summers will likely not be spent here. The flight from Singapore to Vancouver is 17 hours one way (combined with a 15 hour time difference), plus an additional hour by a chartered sea plane to my house, so going back to Sharpes Bay for just a few days is not an option either.
Last week I traveled to my summer home for the first time in over 6 months. I realized that although this is one of the most beautiful places in the world, it simply doesn't make sense to keep a big house and only spend 2 weeks per year here. So with pain in my heart I decided to put it on the market… I may regret this decision later, because it might be impossible to ever find another place like this, but then I will probably just re-read this blog post to remember why I sold it.
Details and pictures of the house can be found here, asking price is $3.2 million. The house comes with 2 slips in a private marina (40 foot & 15 foot). If you are interested in this house please get in touch with my realtor. The video below was taken this weekend, it gives a good overview of the house and how beautiful this part of the world is.
The realtor describes the house as follows:
We are proud to present a truly spectacular property at rarely available Sharpes Bay. Located 15 minutes past Lund, 60 minutes from Powell River, this stunning 2.7 acre estate is perched atop Sharpes Bay with phenomenal views over the Copeland Islands to Savary, Hernando, and the entrance to Desolation Sound. The gorgeous 5 bed 4 bath 4,000 sq ft custom home features a wrap around deck with glass railings, soaring ceilings, stone fireplace, and jaw dropping views from every room. Amenities include a tennis court, pickle ball, beach volleyball, sea side sauna, and marina club house ideal for entertaining and storing paddle boards / kayaks. This private gated community is the epitome of luxurious West Coast living with a beautiful marina, care taker, 22 exclusive lots, and heli pads for easy access via helicopter or sea plane. Includes 2 prime slips in the marina, 40′ and 15′, a car port, and storage shed. Superb value for an iconic acreage with a beautiful cabin completely rebuilt in 2011. Do not miss this incredible opportunity to own a dream recreational property to enjoy with family and friends in Sharpes Bay!