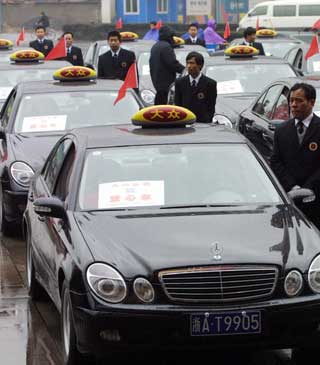 The Non-Violent Resistance blog had a great post last week about Mercedes cabbies in Hangzhou. They were not allowed to raise taxi fares (just like Mercedes taxi's in Shanghai), so they loose money. So what do you do then? Here is the story:
Hangzhou, the scenic capital city of Zhejiang Province, introduced more than 100 luxury Mercedes cabs starting in February 2005. Along with many other amenities, city government treats the Mercedes cabs as part of the city's glorious "face", and forbids cab companies from raising prices.
Attracted by the government promises of high profits, many farmers from Henan Province came to Hangzhou, put down a 80,000 (US$ 10,000) as a safety deposit, signed a contract to pay the company 400 yuan a day as rent, and became some of the city's first Mercedes cabbies. But reality slaps them hard in that leather-upholstered seat. The cars turn out to be no black Mercedes, but fat white elephants! On top of the 400-yuan rent, these pretty babes guzzle 200 yuan worth of gas a day, not to mention maintenance and parts that cost dozens of times more than ordinary cabs. The poor drivers work 18, 19 hours a day but still have no way of making ends meet, not to mention turn a profit. Finally, they want out: give the company back the cars and get 87.5%, or 70,000, of their deposits back. No way, says the company. The Hangzhou government, still happy with its sleek "face" but reluctant to raise prices, surely won't uphold the out-of-town drivers' cause.
So what do they do? They run — with the cars! Seven Henan drivers fled back home to Xihua, Henan with their cars on January 9, turn themselves and the cars in to local police, and asked the home government to help them negotiate with Hangzhou. That's a real daring, yet smart move. Well knowing that they are too small to fight either the Hangzhou cab company or the Hangzhou government, who tricked them into this tight hole in the first place and refused to relieve them of their losses, they've learned to enlist the power of their home government — and the media as well. Not surprisingly, media reports have been overwhelmingly supportive of the cabbies. Indeed, many Hangzhou natives have noticed the cabbies' woes in past months and rallied to their cause.
The cabbies win. Apparently after some powwow between the two governments, the Hangzhou cab company agrees to pay the drivers back their deposits — in full, and get back their cars.
Local media
noted as early as September 2005
that the

Merdedes are bleeding money, both for the company and the drivers. But Hangzhou government remains adamantly blind to the fact, refusing company requests to take back the cars orginally leased to the companies through competitve bidding. All media coverage point to the "face" factor. For a city with natural and cultural endowments as rich as Hangzhou, you would think they should be cool on the vanity front.
I wonder when this problem will spread to Shanghai. Although Mercedes-Benz taxi's are difficult to book here because everyone would like to ride them instead of a Santana or Passat, they face the same low-rate taxi fee and high maintenance cost problem. The 45 min. commute from my home to my office in the morning (one big traffic jam) costs also in a M-B cab less than 30 RMB (3 EUR).